Sustainability at EUROMAR 2022
The Local Organizing Committee is committed to making EUROMAR 2022 as sustainable as possible by reducing the transportation footprint, cutting down food waste, choosing eco-friendly suppliers and much more.
To achieve our goal, we need your help! Please read below some tips on how to make your participation at EUROMAR 2022 as green as possible.

Sustainable Travel
We encourage you to travel to Utrecht by train, where possible, and use public transport to reach the venue from your accommodation. Or why not, come to Utrecht University by bicycle for a real Dutch experience. 
Check out the Utrecht University Train Zone Map to find information on:
the total travel time to Utrecht city centre from various destinations in Europe
the level of comfort of the journey
the CO2 emission of the journey
If your departure city is not listed on the Train Zone Map, you can use the online CO2 footprint calculator to determine how much CO2 emissions you could avoid by travelling by train.
For flights, select you departing airport and select "AMS" for Schiphol Airport as your destination. Click on "Calculate" and you will see what the CO2 footprint is if you would take the plane.
For train travel, switch to the "Bus+Rail" tab and fill out the total milage of your train travel.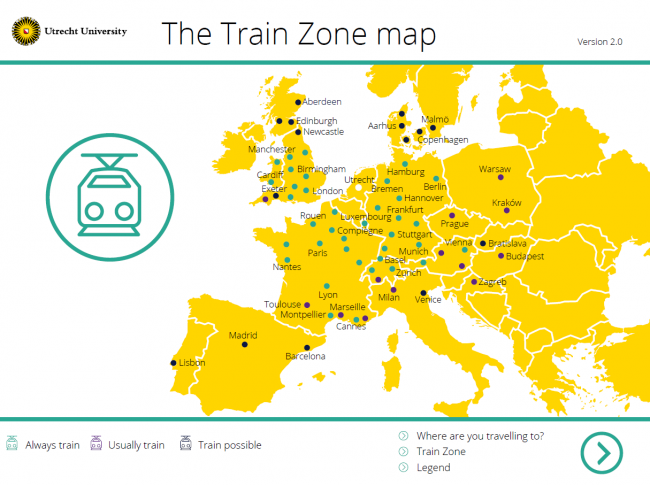 Stay tuned for more information and tips.