SPONSORSHIP & EXHIBITION OPPORTUNITIES
The Local Organizing Committee of the EUROMAR 2022 Conference extends a warm invitation to all interested companies – to demonstrate their support for Magnetic Resonance by participating in one or more of the options outlined in the Sponsorship & Exhibition Brochure.
EUROMAR 2022 is a unique and prestigious marketing opportunity and we are confident your involvement as a sponsor in this European forum will provide your company with exceptional business rewards.
Exhibitor Opportunities-at-a-Glance
Below is a list of some of the ways your organization can benefit by becoming an Exhibitor.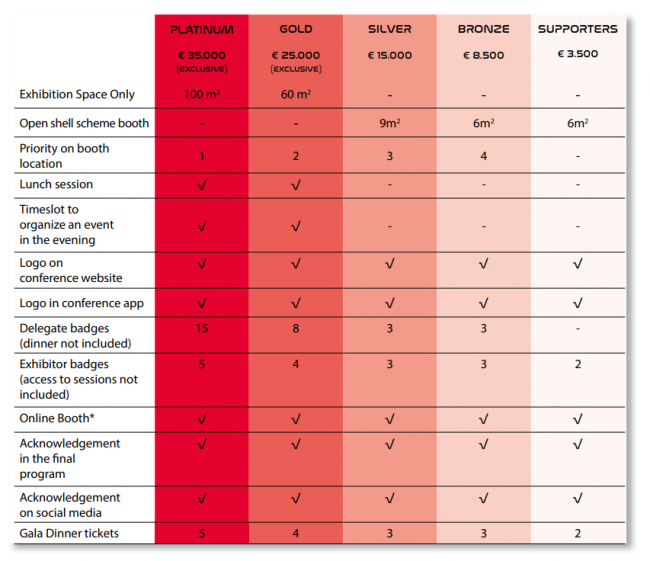 Why become a sponsor / exhibitor of EUROMAR 2022?
Our sponsorship packages have been carefully shaped to meet the commercial imperative of our industry partners. We provide a range of opportunities for name exposure, branding and networking.
Our exhibition hall for sponsors is positioned to capture maximum customer engagement during the tea & coffee breaks and lunches. This is why the exhibition and the scheduled breaks (coffee & tea and lunches) are in the same area. There are a range of opportunities to suit every budget, keeping your brand front of mind with delegates. Sponsors will also benefit from enhanced brand exposure in web and printed collateral, before, during and after the event.
Maximizing networking opportunities for our delegates is an important priority. We work hard to provide places for formal and informal networking. Dedicated meeting spaces include an integrated exhibition hall for optimal exposure.